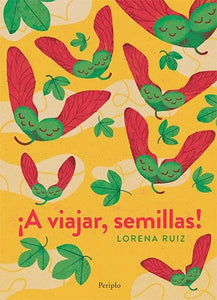 ¡A viajar, semillas!
By Lorena Ruiz

¡A viajar, semillas! abre un huequito en la tierra y con él, una oportunidad de espiar algo de ese misterio. Las semillas no se quedan quietas: vuelan, nadan, flotan. Esperan, se esconden, caen. Viajan. Esa vida dentro de ellas quiere nacer. Y en su interacción con todo lo bueno de este mundo -el sol, el aire, el agua, los animales, los insectos- buscan el camino para sembrarse; para encontrar un hogar donde brotar, hacerse fuertes y crecer.
Con las ilustraciones, Lorena Ruiz hace un homenaje a la geometría vegetal: hay semillas, hojas, flores e insectos que forman tramas de hermosos colores y texturas. 
Al final del libro, la autora ofrece un apéndice de información científica sobre los viajes de las semillas, cómo germinar un árbol y la importancia de éstos para la vida en nuestro planeta.
A beautifully illustrated exploration of the lifecycle of trees, told through simple, rhythmic text.
Authentic Spanish
9789874975430, © 2022
PreK–2nd grade, Ages 3–7