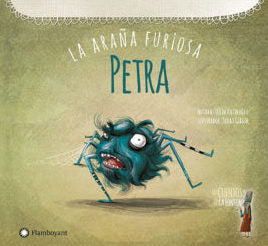 Petra, la araña furiosa (Los cuentos de Leyla Fonten)
By Tülin Kozikoğlu
Illustrated by Sedat Girgin
A spunky little old woman lives with a crew of pets she never meant to adopt but who have become her family nonetheless. Each book tells a simple, funny story and addresses an emotion or attitude that can be difficult to overcome.
Petra is furious. Every time he weaves a new masterpiece of a web, someone else destroys it. Slowly Petra realizes that if he considers the perspective of the others, he has nothing to be angry about.
Click here to download the teaching guide.
9788494648632, © 2017
Preschool–2nd grade, Ages 4–7