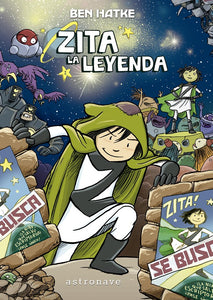 Zita, la leyenda
By Ben Hatke
The second book in the Zita trilogy.
Zita is back for another space adventure! Now an intergalactic megastar, Zita is determined to find her way back to earth, but her fame throughout the universe is complicating her mission. She has to keep up with a public persona that doesn't feel like the real her, and a robot-alien-doppelganger is wreaking havoc in her name. 
Still, if anyone can find their way through this intractible mess of mistaken identity and alien invaders, it's the indomitable Zita.
9788467933871, © 2018
Ages 8–12, 3rd–7th grade